CHAR – Blooming Flower Tea to Cease Your Time from Any Stress
An aesthetic of drinking tea and a beauty of nature in teapot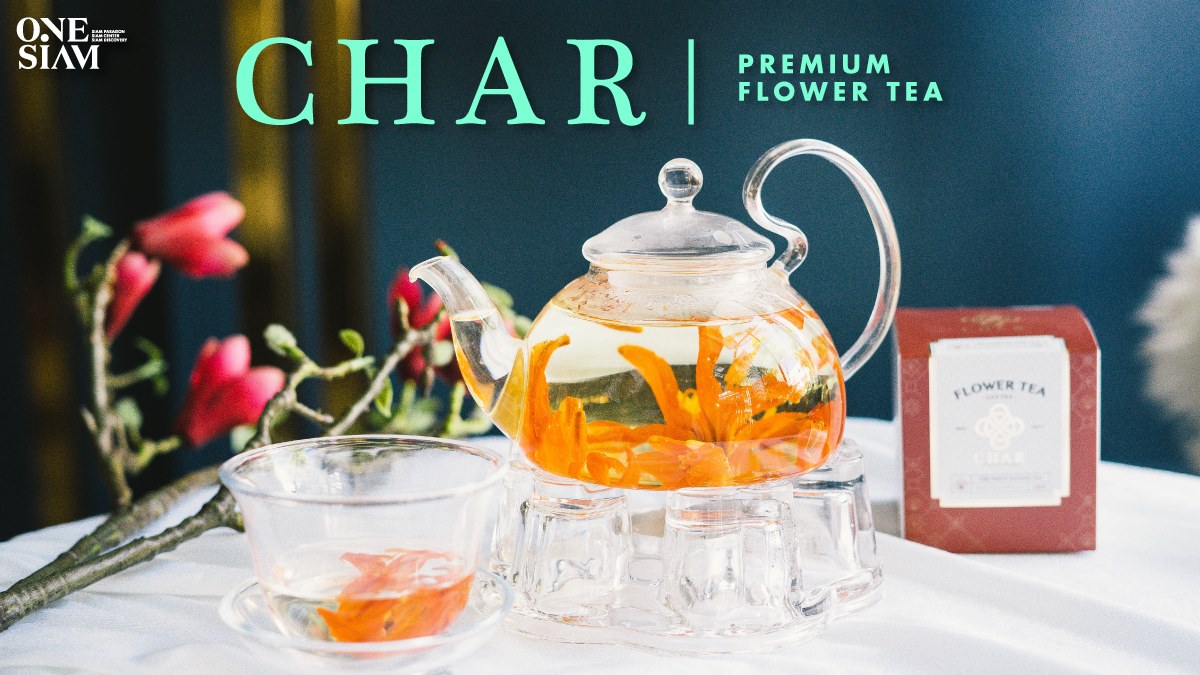 Currently, drinking-tea culture is being trendy, especially among those who would like to drink decaf tea and to have beautiful tea time while appreciating flowers, reading a book, and viewing skies. We can create a moment when time stops with a transparent teapot and blooming flowers, and while we are bringing the aroma of nature inside ourselves. This is what we like about the most unique flower tea, CHAR, the new generation's brand, in which every detail matters.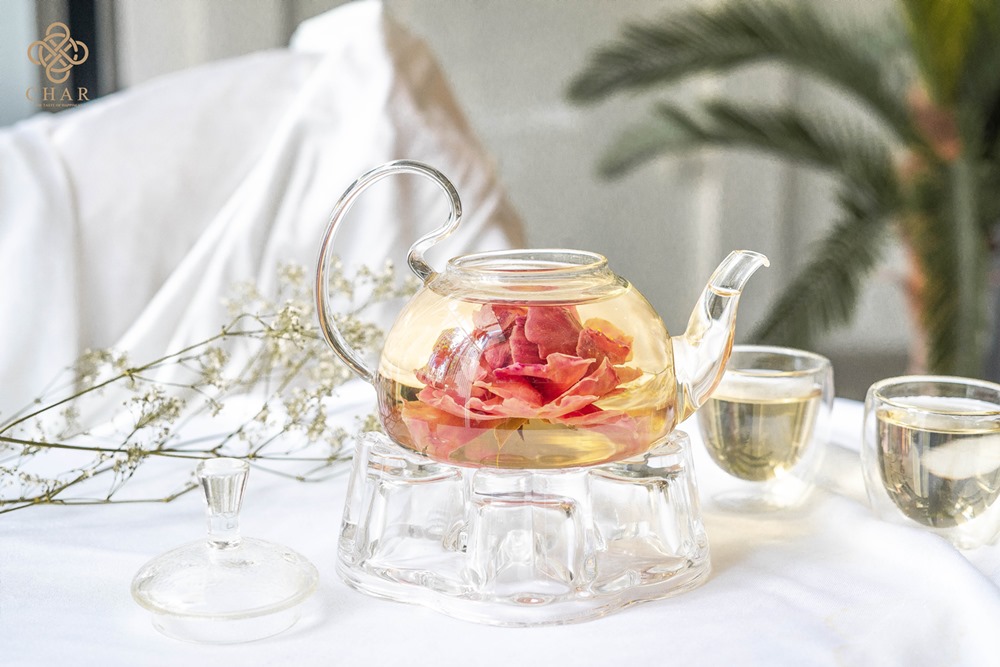 Mild Flower Tea for Thais to Taste
The CHAR brand began with 3 partners. Pym - Siripim Apinuntakulchai and Dee – Naruedee Apinuntakulchai are two sisters who has run an export business and has traveled to a number of countries, so they have had chances to explore flowering tea culture and they would like to transfer this idea to Thai people. Pym, one of the founders, mentioned that "We always like drinking tea. Our main work has brought us to many countries. When we work there, we will find what tea is famous, try it, and bring it home. When we have tea from different places, we discovered that we like the tea with flower taste, not a strong one. Because we will feel refreshed, and we like the complication of its fragrance. That's the beginning which no one has never done before. So, we try collecting teas from a lot of places including Thailand."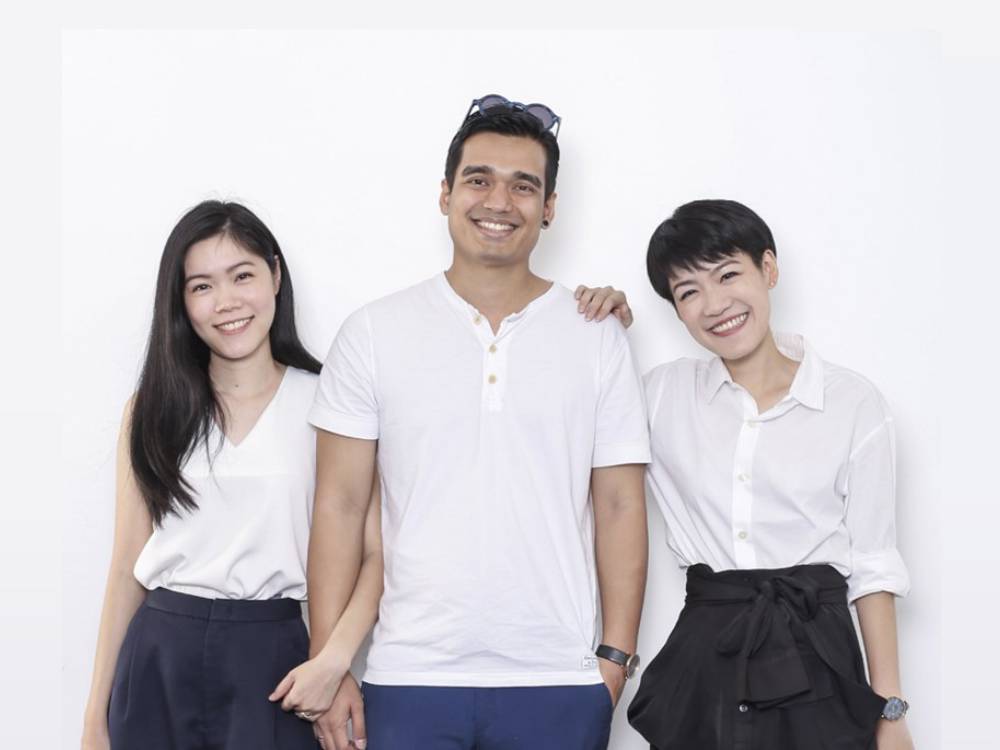 It's also a good opportunity as Pym and Dee met Bless - Pongsakorn Thongsuk who is keen on branding and marketing, so they created this brand. He said, "I have been working in the field of branding and marketing. That's how the brand began. At first, we started with importing flowers from other countries. Then we explored Thai flowers, we talked with Thai farmers, and we took a look at a lot of flowers. But Thailand is a tropical country. There're many insects, so we had to cut off a number of them. Some farms also use pesticides. Finally, we found lotuses. Normally, there's already lotus tea, but in a leaf form. However, our brand's concept is beauty with good taste. So, we had to develop it, making the flower fully bloom in the pot. We chose water lilies as they easily grow in Thailand. Anyways, what we focus the most is that we use flowers for consuming. So, we have to make sure that the flowers are from organic farms and truly pass our quality standards."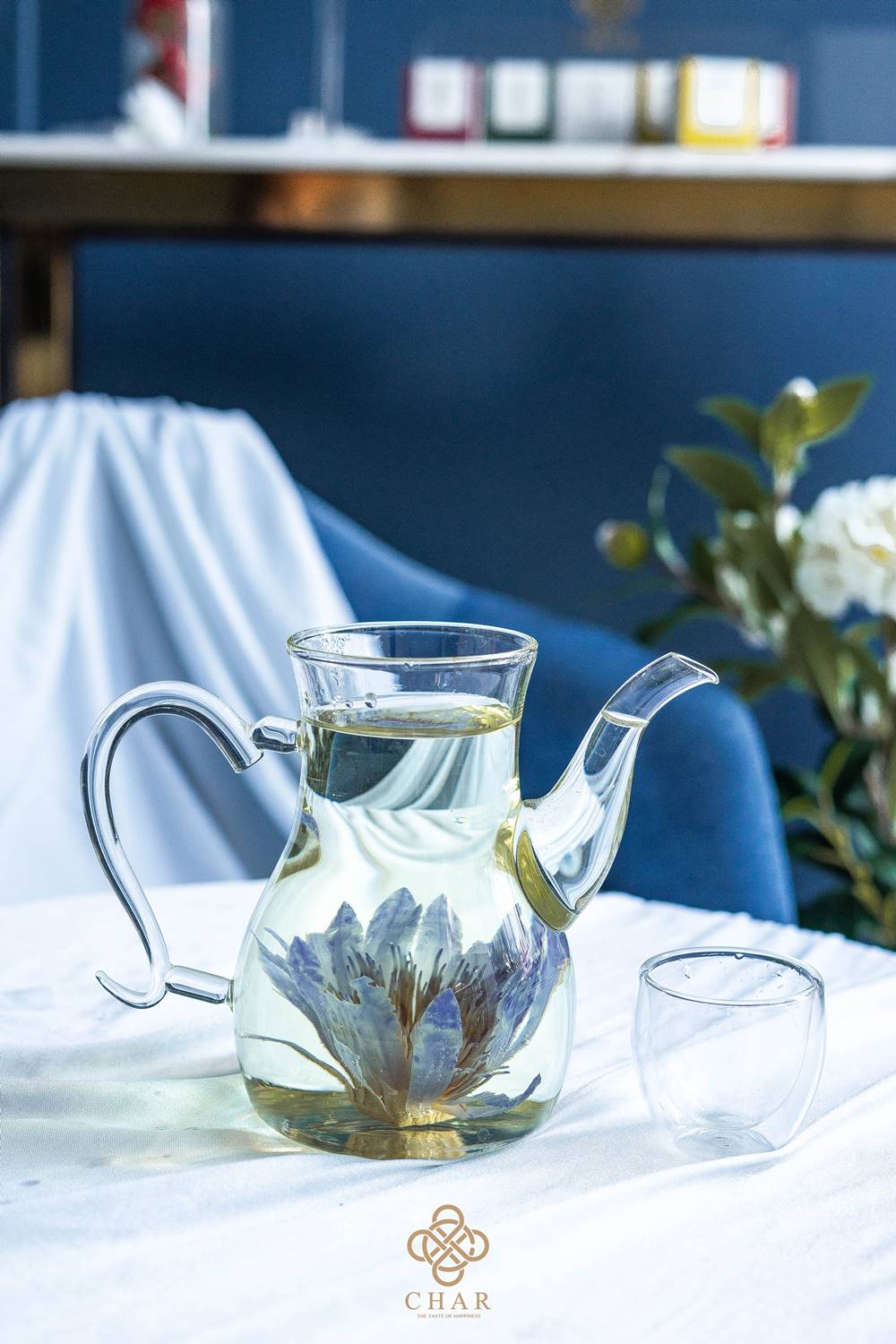 CHAR Means More than "Tea"
Bless explains that CHAR does not refer to tea, but these 4 letters come from:
C – Charming (beautiful, enchanting, and alluring)
H – Healthy (no color added, no sugar)
A – Aromatic
R – Relax
This means every product has to answer to these 4 concepts. Drinking it is healthy with refreshing aroma. So, there are several flowers being qualified for the brand's teas. Also, they must pass the standards of FDA. Then, they are ensured to be produced as 7 flavors of flower teas; White Chrysanthemum Tea, Lily Tea, Imperial Chrysanthemum Tea, Rose Tea, Water Lily Tea, Lotus Tea, and Blooming Tea (the only type with caffeine).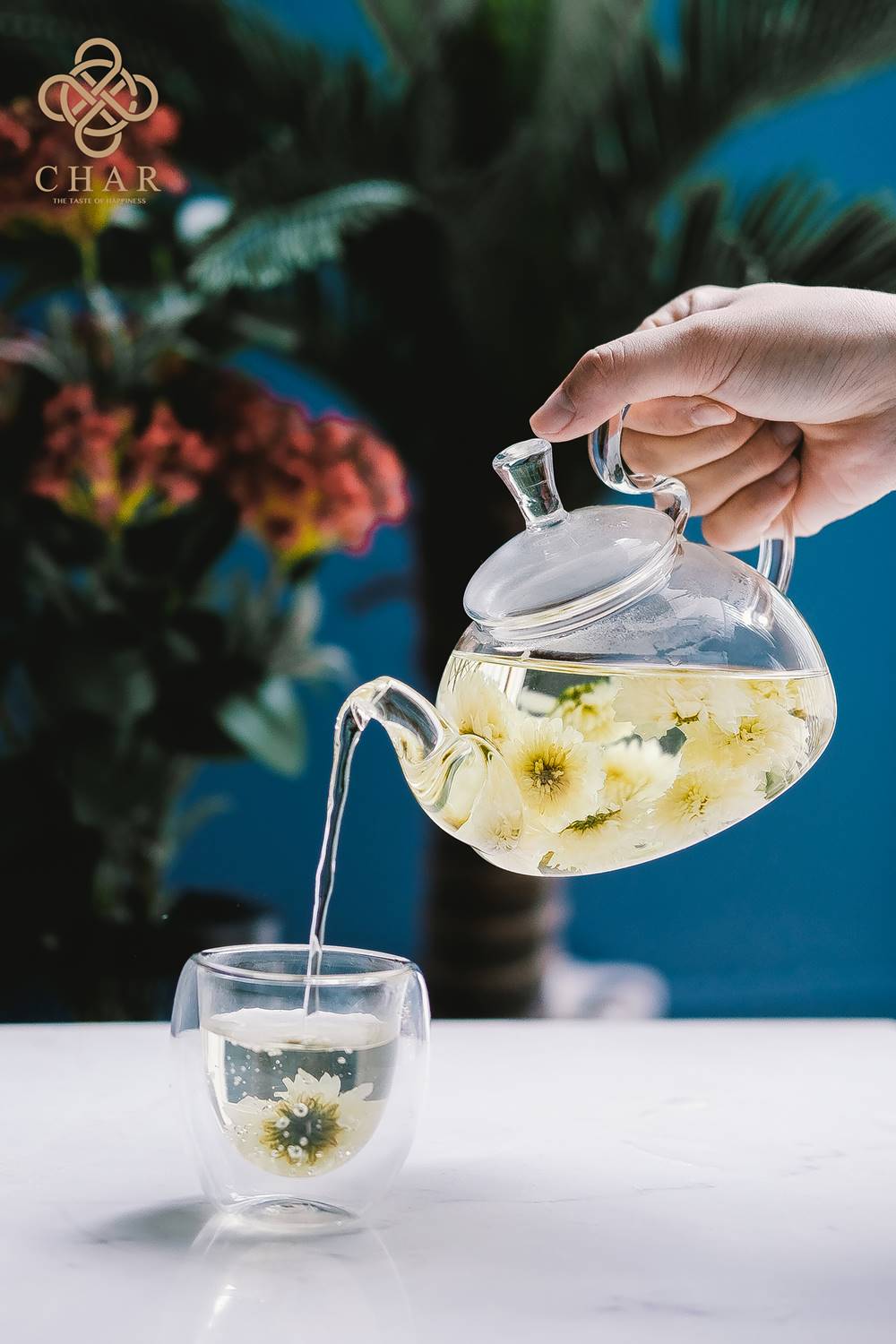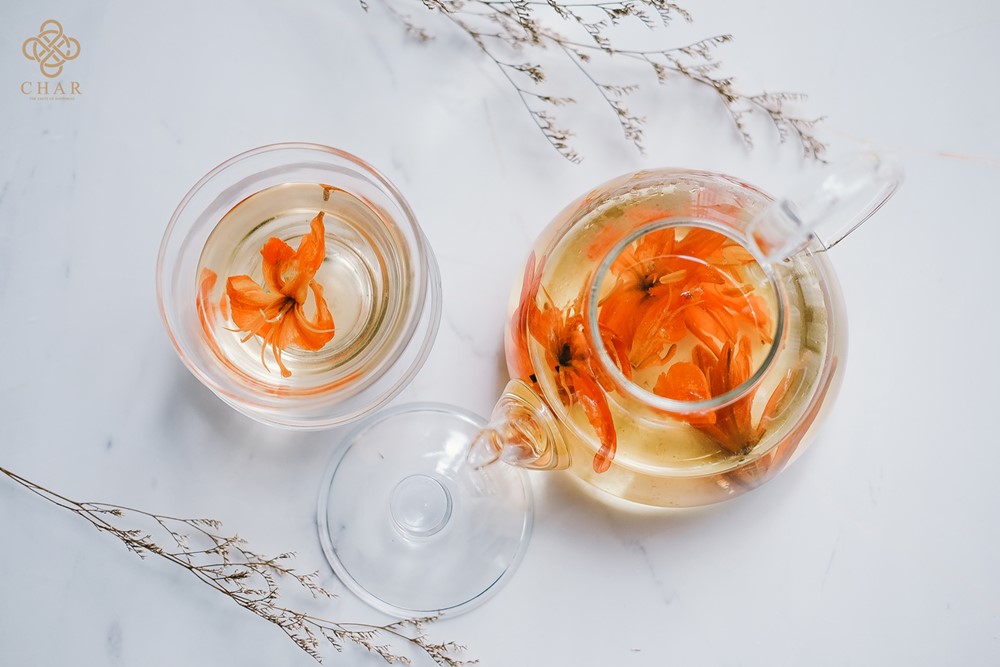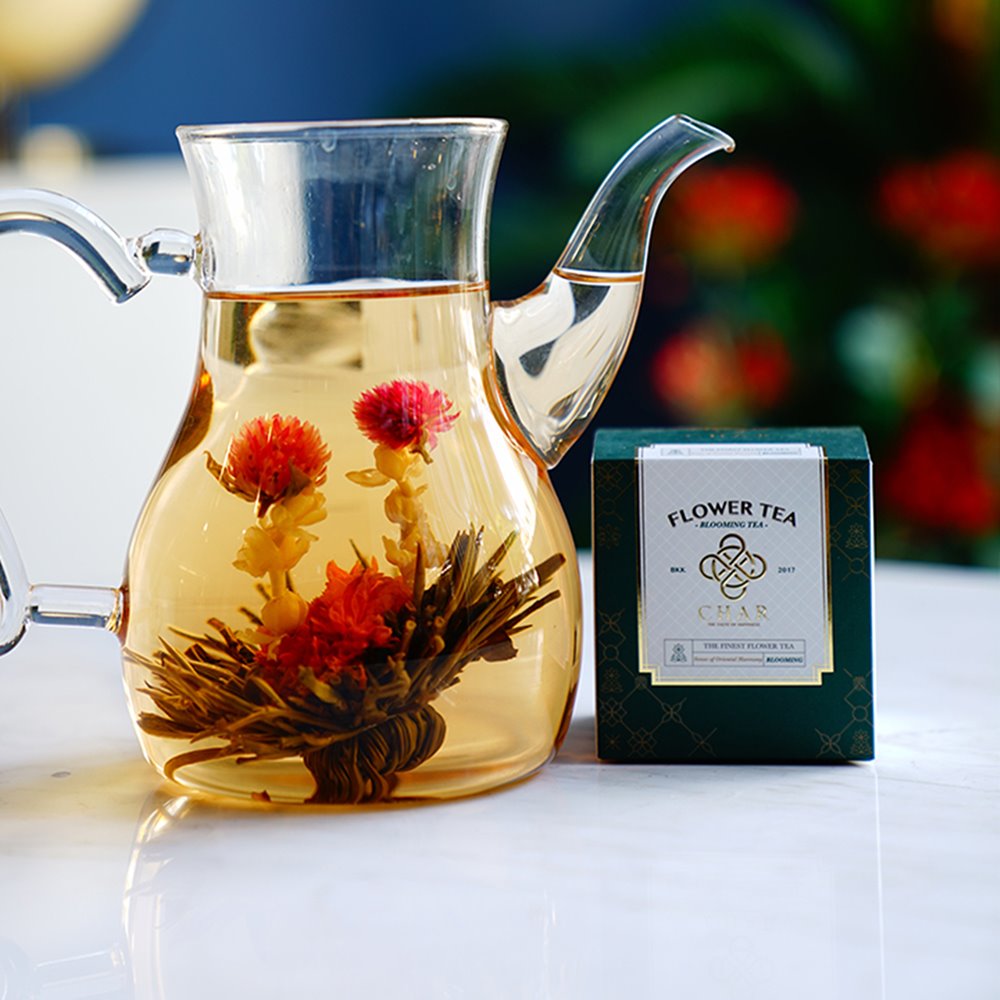 "Every product must fall into all the 4 concepts. Each type of flowers must fully and beautifully bloom in the pot. When sipped, the taste must be good and aromatic. We choose different flowers in terms of taste, fragrance, aesthetic, and benefits. For instance, Chrysanthemum Tea will give you relaxation and good sleep. Each flower has its own value hidden inside as a by-product, but CHAR is focusing more on its beauty and drinking." Production is not an easy task, as the best flowers must be selected. Not all the flowers can be produced as tea. Bless informed us that, "Actually there're 2 types; the first one is pre-dried according to our process, and the other is delivered fresh in order to make it dried at our factory here. It depends on how far it is and which country it is from. If it's in Europe, it will take a long time to come here and it can affect the quality, so it's better roasted there. For some flowers, you need a special process, as the petal layers are thick. For example, we dry lotuses ourselves. At first, we'd like to produce Sacred Tea Lotus, due to its beauty. However, the petal layers are massive, the drying process cannot make it through the innermost layer. So, we cannot yet produce it."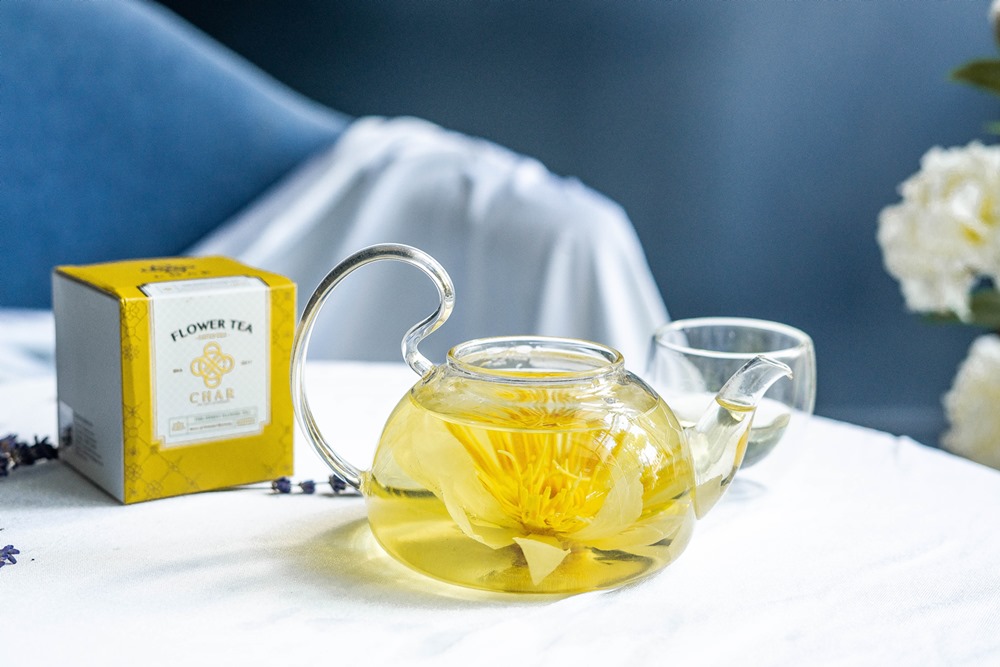 Another interesting story is the quality of full flower teas. There are differences, especially between the full flowers and the fallen ones. The flowers from the tree are sold at a higher value per gram, more than those of loose tea in which every leaf will be ground. CHAR has to select only the best ones. Small flowers, incomplete petals, falling petals, or not beautiful ones, we will exclude them all. This means sometimes there will be only 50% qualified after received from the farm. Pym added, "The White Chrysanthemum we select is of high price. There are several grades of Chrysanthemum. Those who regularly drink tea would know that our tea has higher quality than normal other Chrysanthemum teas."
Why These 7 Flower Teas?
Pym, Dee, and Bless have tried blooming teas from all around the globe. However, the limitations of each flower might not pass the best standards. Because normal flowers, after a while, the fragrances will fade away pretty quickly. Also, they have to visit the farms to see whether it passes the standards, or uses chemicals. "We have tried a lot. My friend from Korea brought me many blooming teas, but they didn't work. The taste must be recognizable for Thais. For instance, there's a variety of Rose Tea with different aromas. Some are very beautiful, I'd like to sell, but I had to go against myself and cut many of them off." So, CHAR's 7 flower teas are the most well-blended.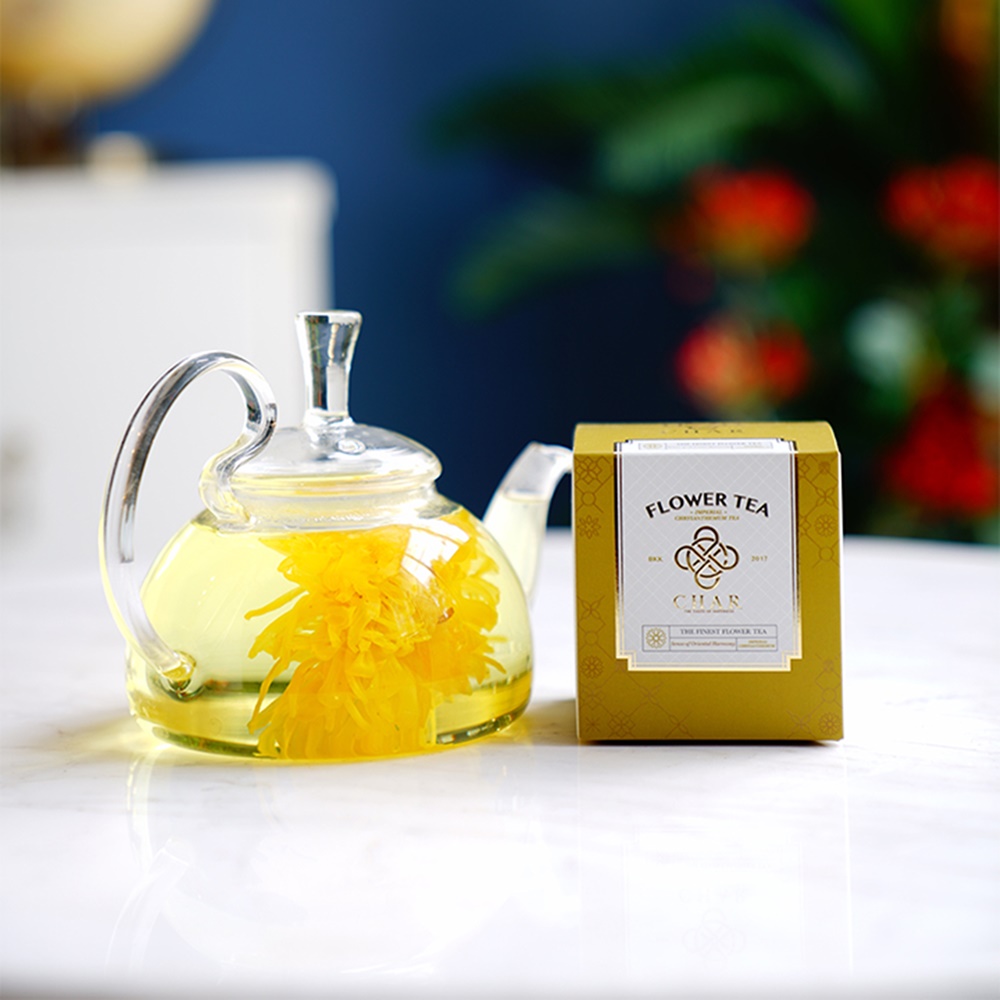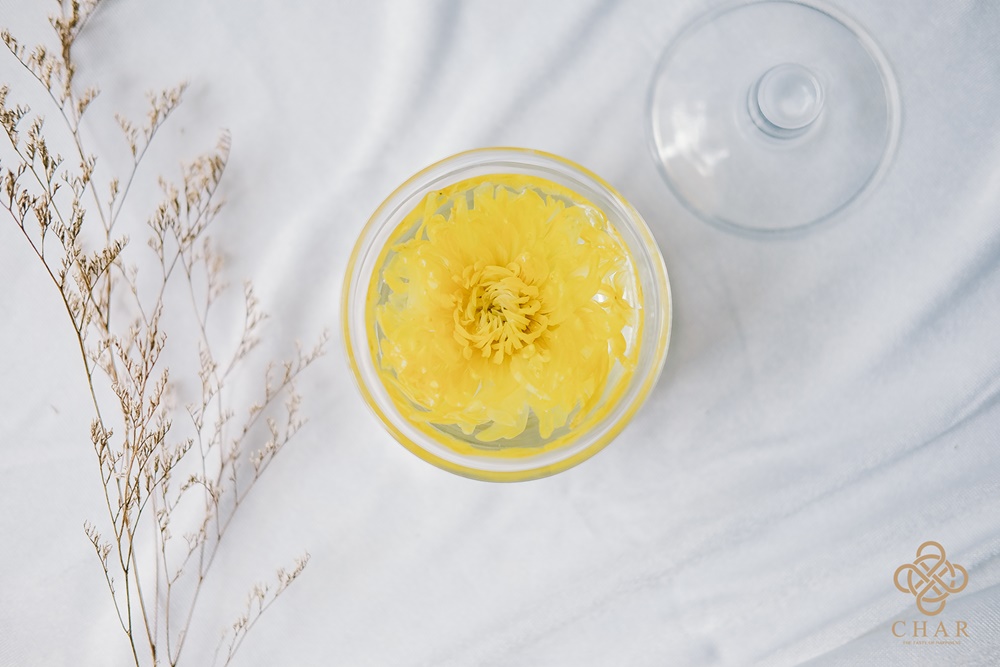 Pym explored her experiences in tasting several flowering teas and discovered that, "There's the history of Imperial Chrysanthemum Tea being served only in the palace, as it is costly, difficult to find, sacred, and with positive meaning. We try to find the rare variety, so the price is higher. Apart from its good meaning, it also provides cooling-off benefit, liver nourishment, and body heat reduction. For German roses, they are aromatic with big flowers, one rose can fully bloom in one pot. We import 2 types of Chrysanthemum from China, of premium quality. Lily Tea is from Nepal, as it's required to grow in cold places, in the Himalayas. Blooming Tea is from various locations, such as China and England. We visit every farm ourselves to see that they don't really use any pesticide. The products must answer to our concepts before reaching out to consumers. Though flowers are delivered to us for trying, we ought to go there to see with our own eyes."

Brewing Flower Teas for Best Natural Aroma
The brewing technique is not difficult. Blooming Tea is the only one with caffeine. It is the combination of white tea leaves, such as Jasmine, Chrysanthemum, and Gomphrena Globosa. We pour hot water before putting in the tea. But for the other flowers, we place the tea inside the pot first, then pour hot water. After that, we rinse it off in order to warm the tea, then we fill the pot with hot water again over the flower. We recommend you to place the flower face down to have its front submerge in hot water the most. Because roses have a number of petal layers, if placed upwards, the taste cannot emit fully.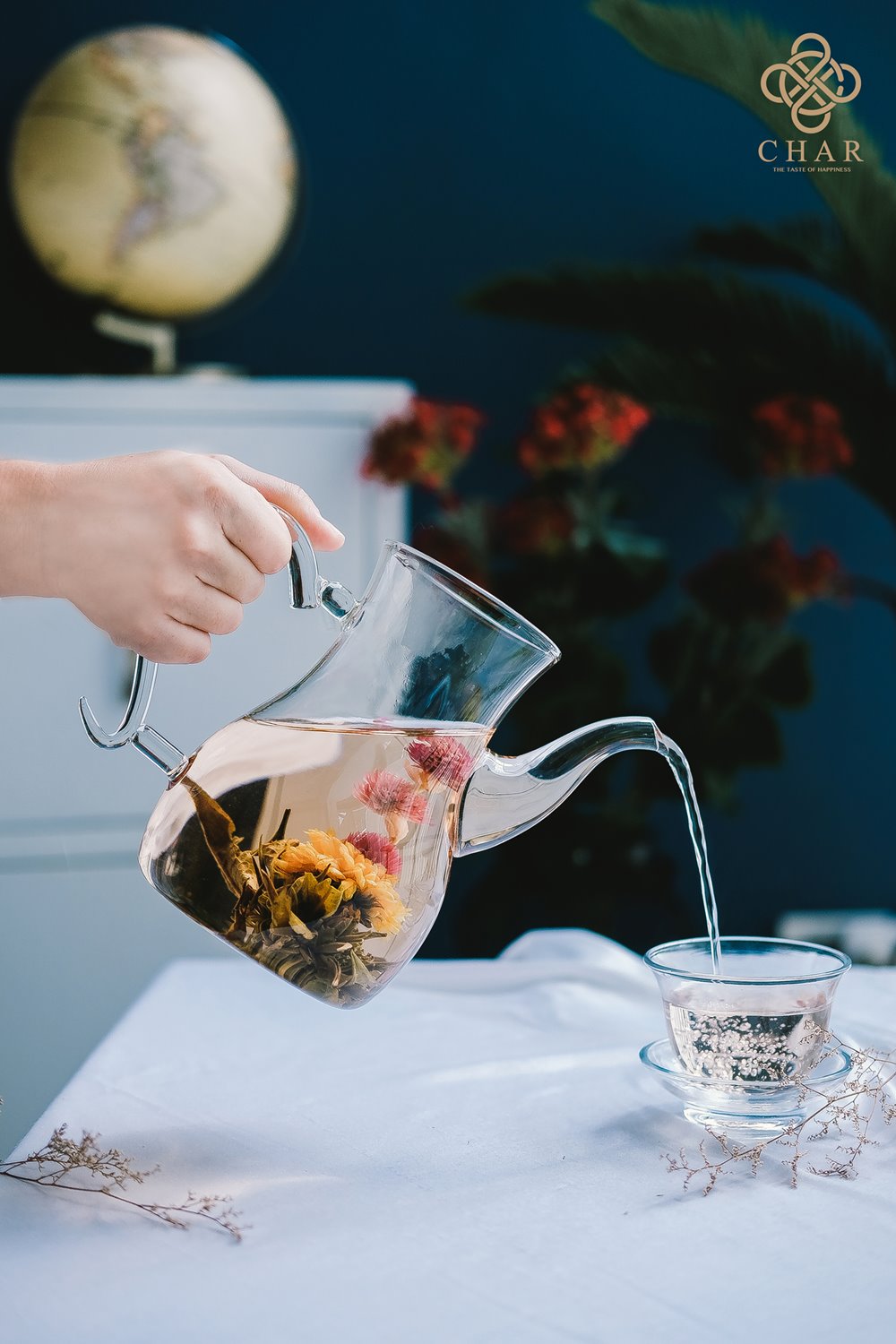 After building the brand for more than a year, the feedback we have received is more than expected. Apart from having our products on ODS' shelf on the 3rd floor of Siam Discover, we distribute to other cafés and various five-star hotels. CHAR's pride regards not only regular customers, but also our support to farmers whom we make our orders with, such as lotus farms. We believe that if we can sell our products, then the farmers can have their income.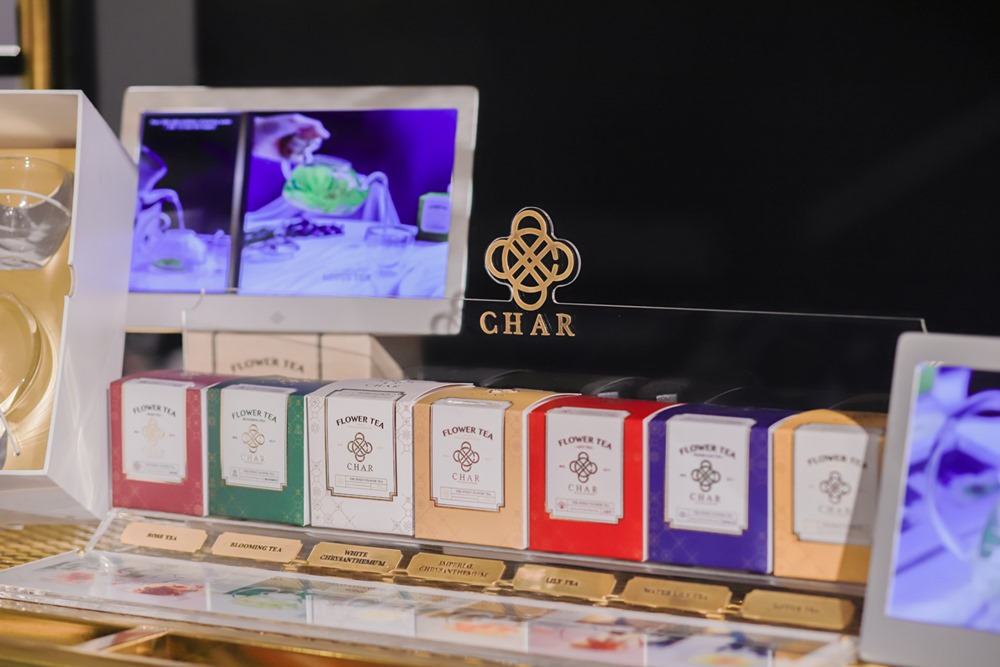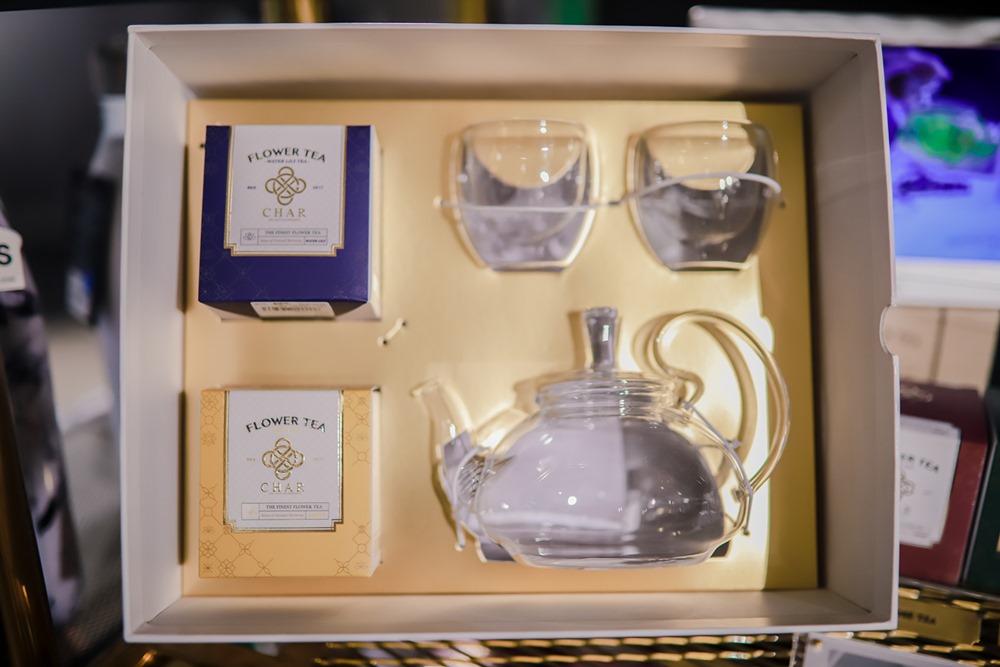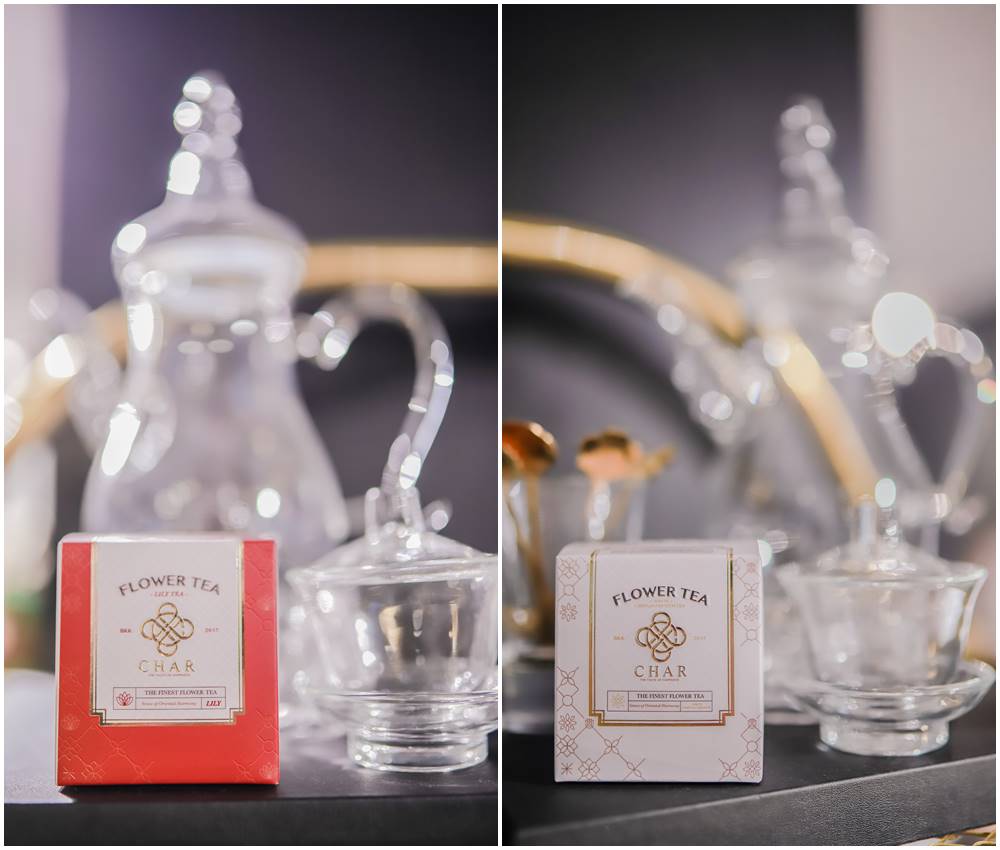 Are you prepared for a tea time with a fully blooming flower pot? Come choose which flower you'd like with a tea set as your lifestyle gift from CHAR at ODS, 3rd Floor, Siam Discovery.