Flavorful Experience in Lanna-Style, at Northern Thai Restaurant, "Fai Sor Kam"
Cutesy Lanna-style dishes served to you at the heart of Bangkok!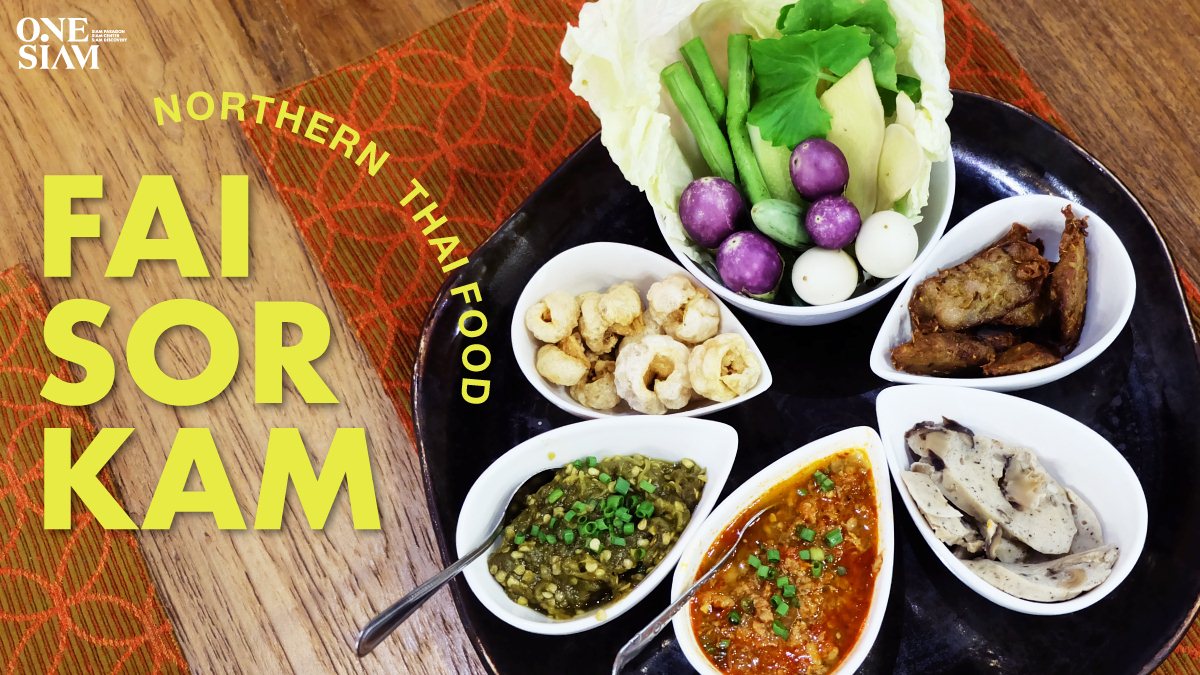 Siam Paragon is a must visit destination for Thais and foreign tourists. The spacious and convenient shopping center is located in downtown Bangkok, just right off the BTS station. Plus, all brands and categories are available in serving to all lifestyles. This is one of top listed locations for visitors from around the world.
Siam Paragon is also renown as Food Lovers' Paradise. There is a variety of restaurants and cafes: Thai, Chinese, Japanese, and European dishes, desserts like Bingsu, ice cream of various choices, or even, Northern-style (Lanna-style) dishes are ready to serve to you at Siam Paragon, downtown Bangkok.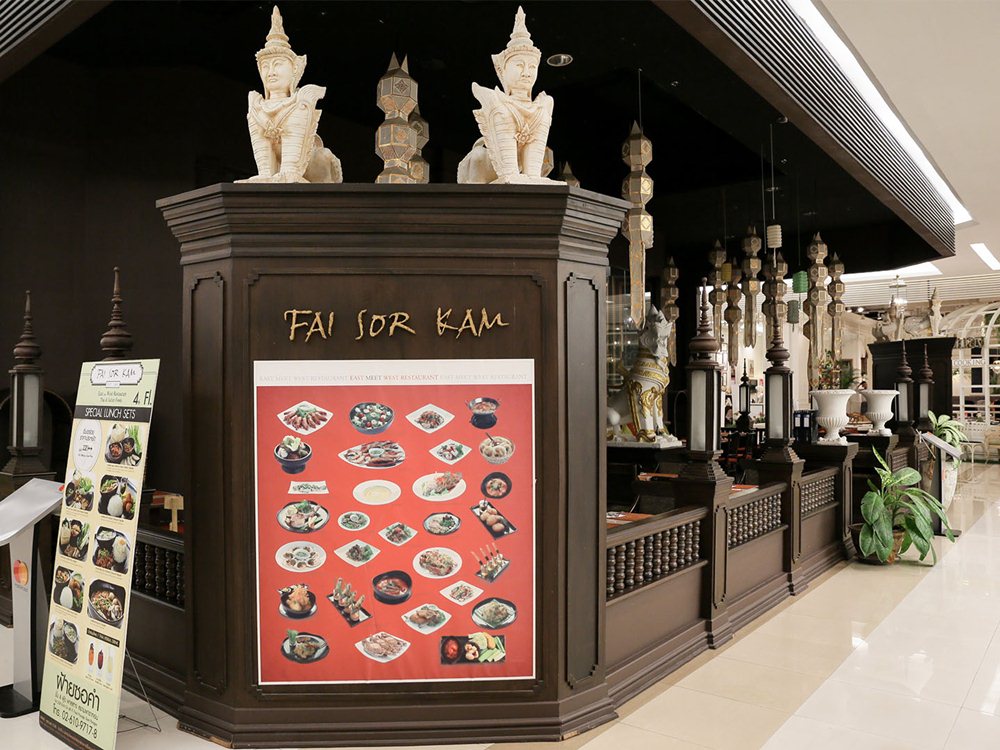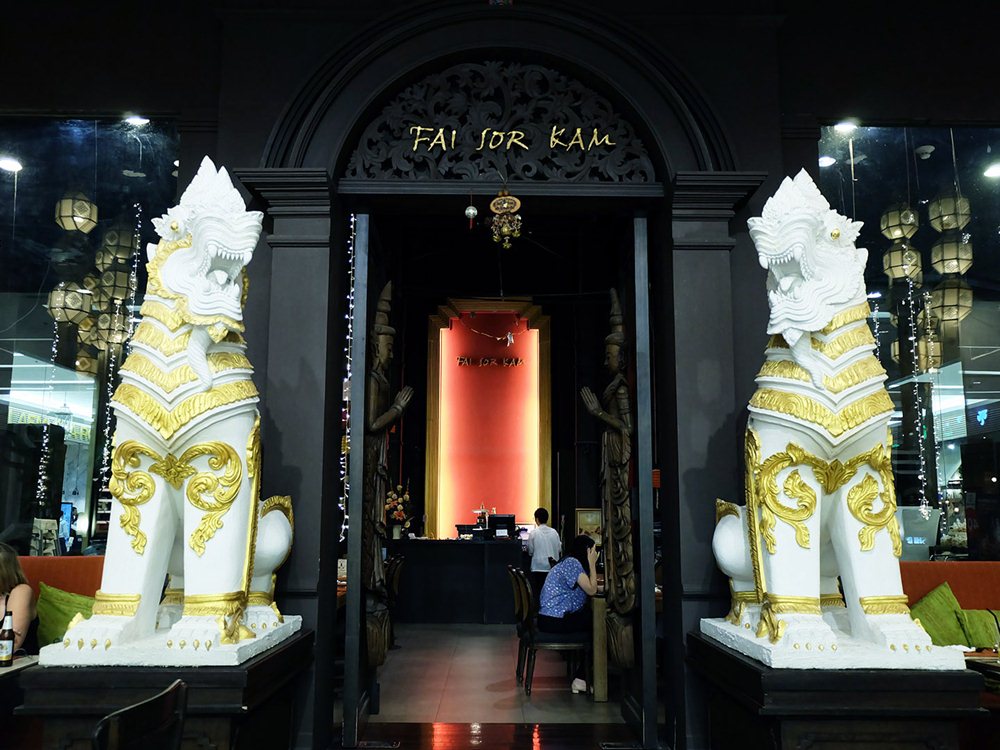 "Fai Sor Kam" is doing decent Thai food in a cutesy Lanna-style setting. The restaurant was originally founded as Cotton and Interior Store, highlighting handmade products crafted from local wisdom.
Today, Fai Sor Kam Siam Paragon is located on Fl. 4, Food Passage, from over eight years. The space is divided into two zones: inner zone and terrace zone. The key inspiration is Lanna style, which reflects in decoration, ambiance, and food. Fai Sor Kam loves to introduce local lifestyle to all guests during their visits, even that's the short period of time. Good impression get from this place shall be much beautiful and memorable.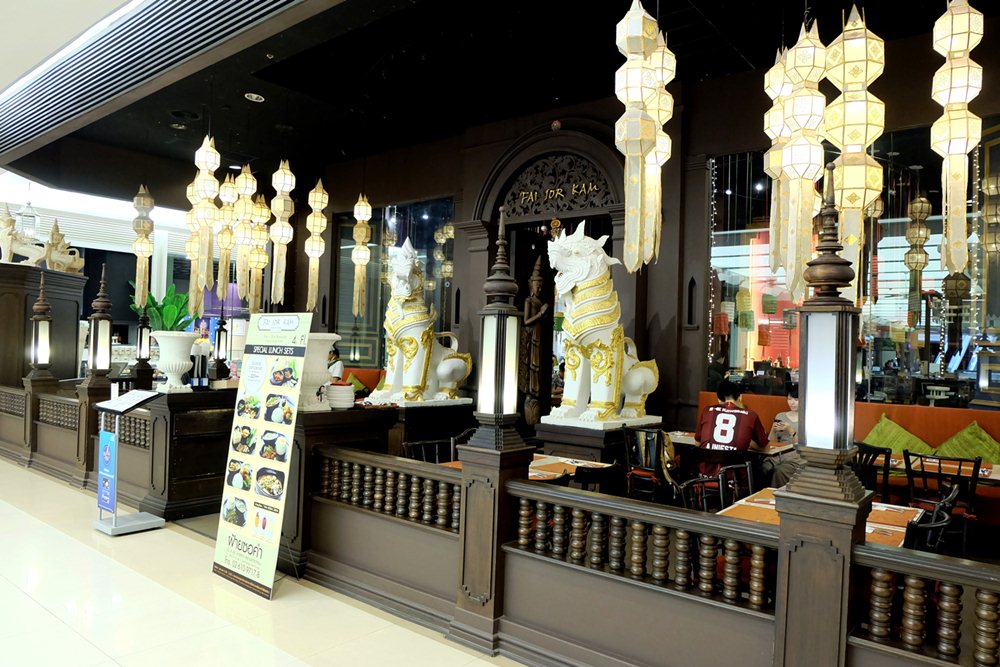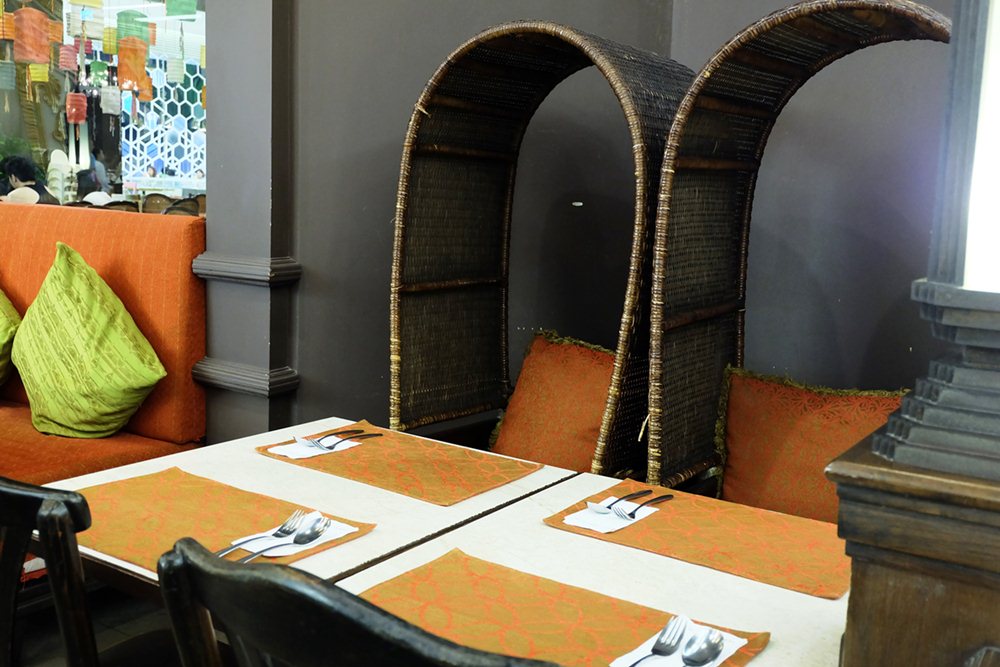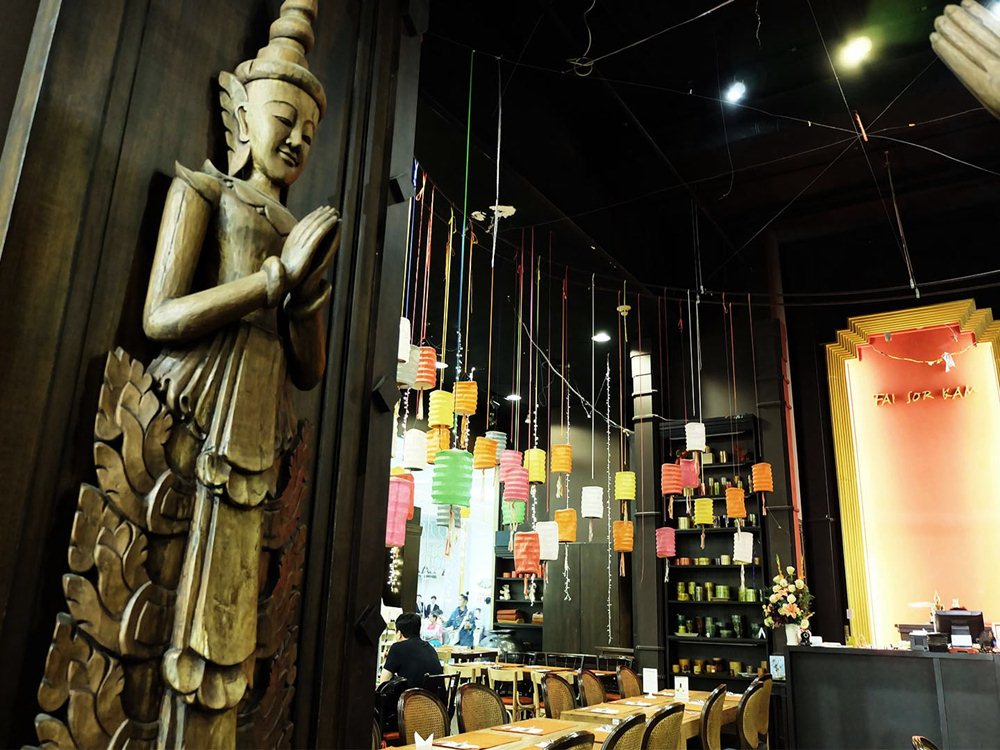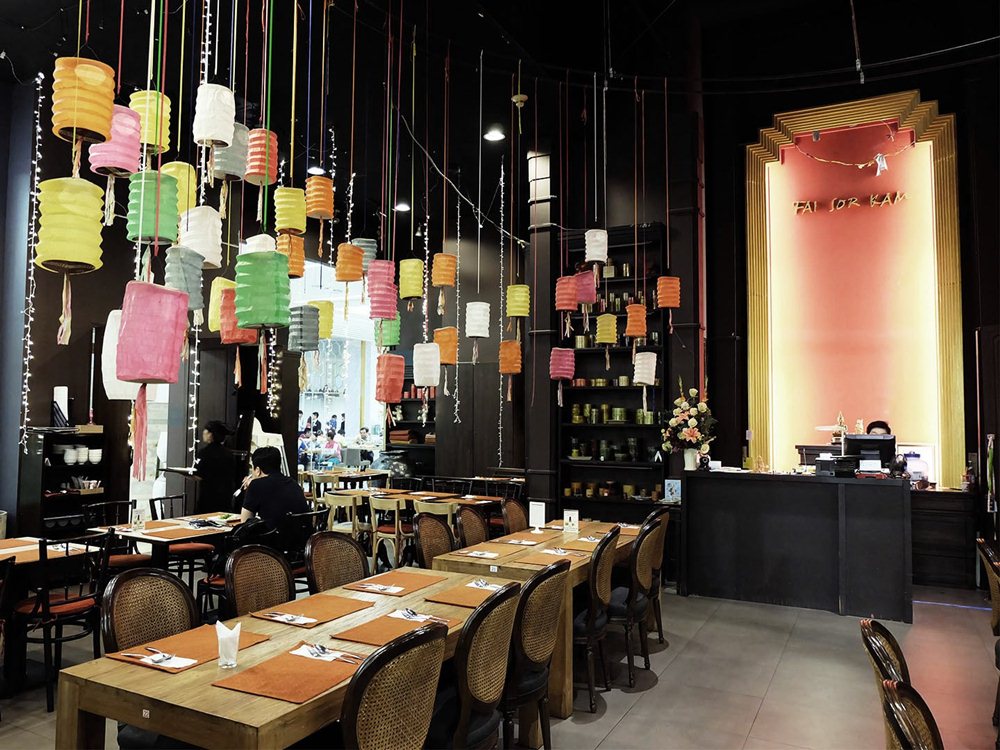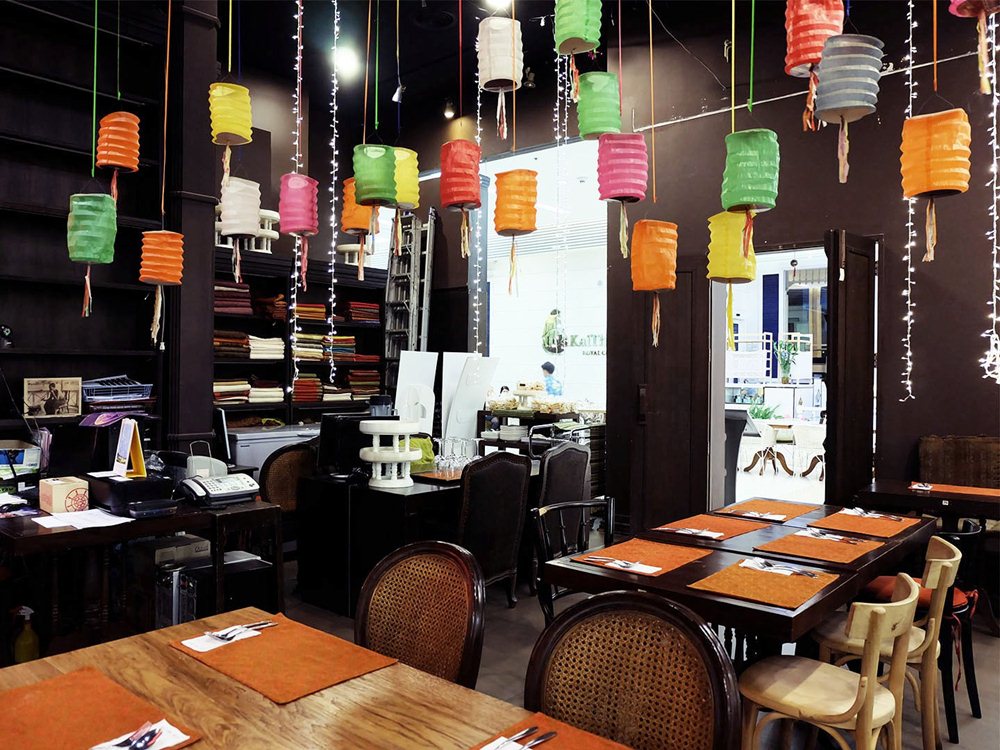 Fai Sor Kam has a variety of dishes: Central Thai, Northeastern Thai Style, as well as Fusion Food, to meet all preferences. However, Northern-style or Lanna-style dishes are wholeheartedly recommended. We bet, once you have tried "Fai Sor Kam" dishes, pictures of Chiangmai, Red Taxi, and Doi Suthep would start reflecting.
Fai Sor Kam's Khantoke Dine Set, 250 baht. This dish is comprised of Lanna signature chilly pastes (Nam Prik Noom and Nam Prik Ong), Crispy Pork Skin, Steamed White Pork Sausage, and Fresh Vegetables. Spicy Nam Prik Noom and salty crispy pork skin, as well as the fresh cucumber and harmonious taste of Nam Prik Ong are great combination that we cannot stop trying. Another must-try menu is aromatic Northern style sausage (Sai Ua).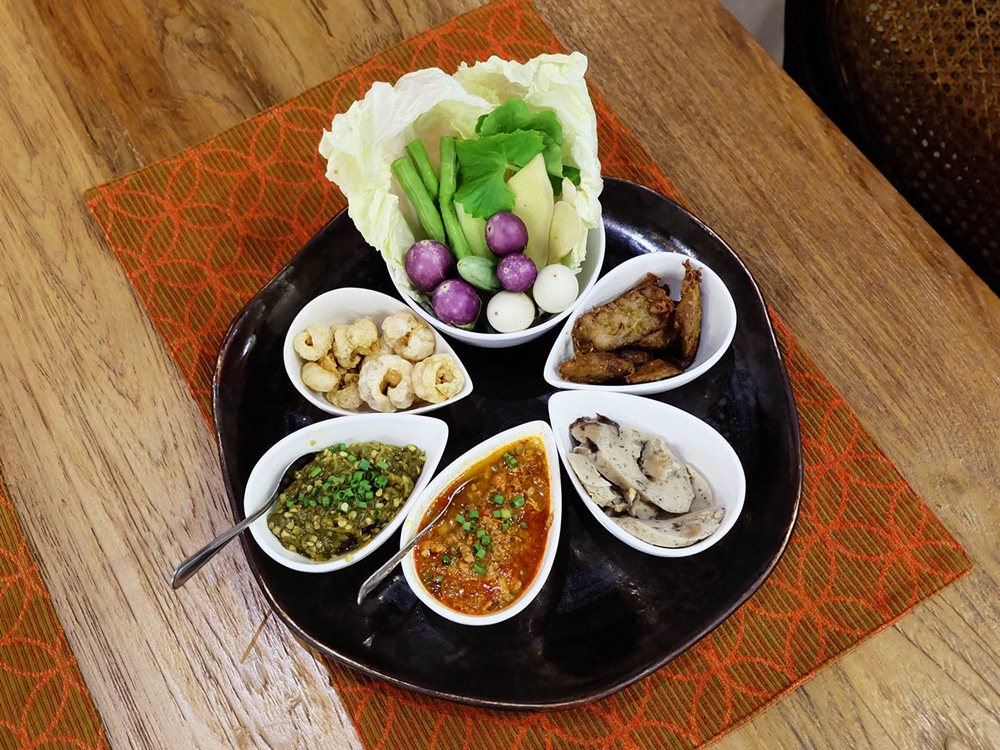 Kao Sai Kai (Chicken Curry Noodle), 220 baht. The restaurant serves their authentic homemade recipe, with yellow noodles and aromatic chicken in savory red curry, covered with fried yellow noodles, which is must-try item for food lovers. Natural seasoning like lime, shallot, fermented vegetables, and aromatic roasted chili, are also served to satisfy your tasty yet spicy experience. Savory red curry would bring you harmonious feeling of aromatic and mouth-watering blended taste.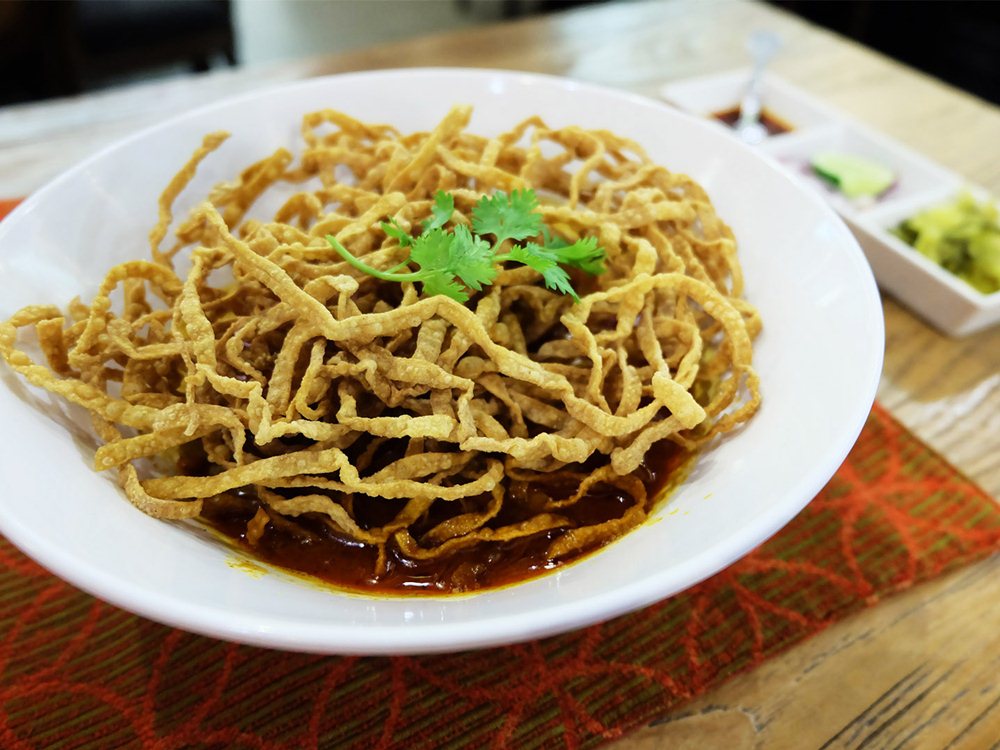 Ka Nom Jeen Nam Ngiao (Spicy Soup Noodle), 180 baht. Full-sized pork rip, tomatoes, dried cotton flower (Dok Ngiao), and other ingredients are well stewed in spicy soup, served with rice noodles (Ka Nom Sen in Northern Dialet, or Ka Nom Jeen in Central Thai)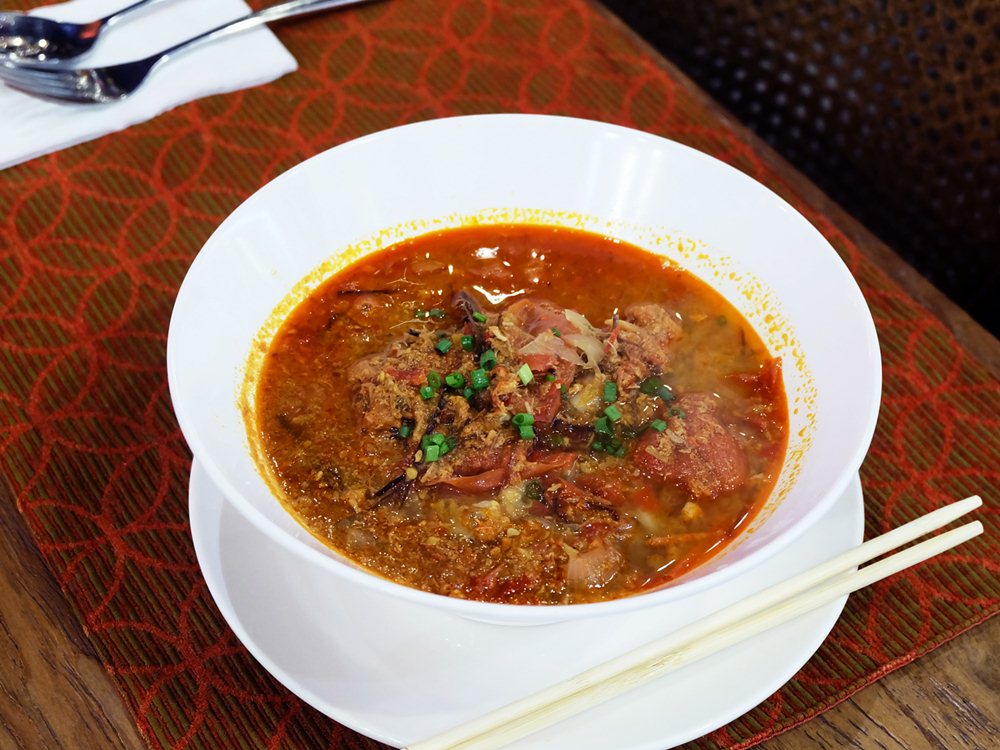 Lab Kua (Minced Pork with Local Spices), 195 baht. Minced pork and entrails to be well stir fried and seasoned with local herbs, cooked in Lanna-style. The unique taste of Lab Kua is one-of-a-kind original.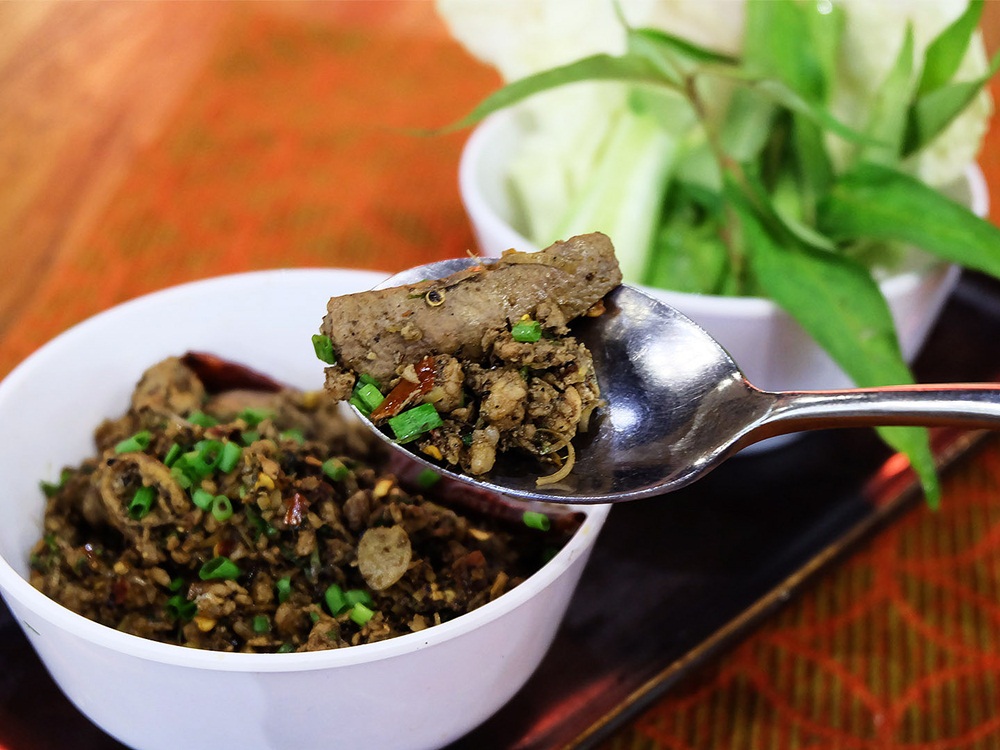 Kaeng Khae Kai (Northern-Style Chicken Soup), 195 baht. This Northern-style dish is rich in nutrition, and fibers, mainly served with small eggplants, okras, vegetable hummingbird in light but tasty soup. Enjoy light and tasty soup as you wish.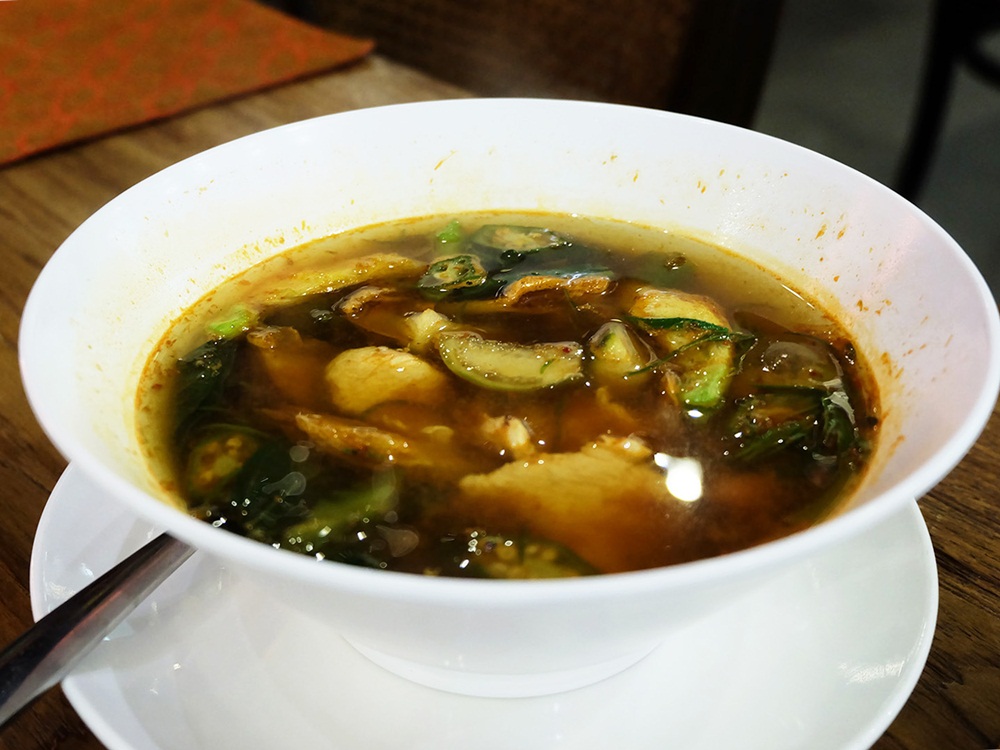 Besides, don't miss Sun-Dried Pork, 170 baht; and Lunch Set Menu, 220 baht per set (Hot and Sour Shrimp Vegetable Soup, served with Fried Seabass, and jasmine rice, as well as a huge glass of iced bael fruit juice.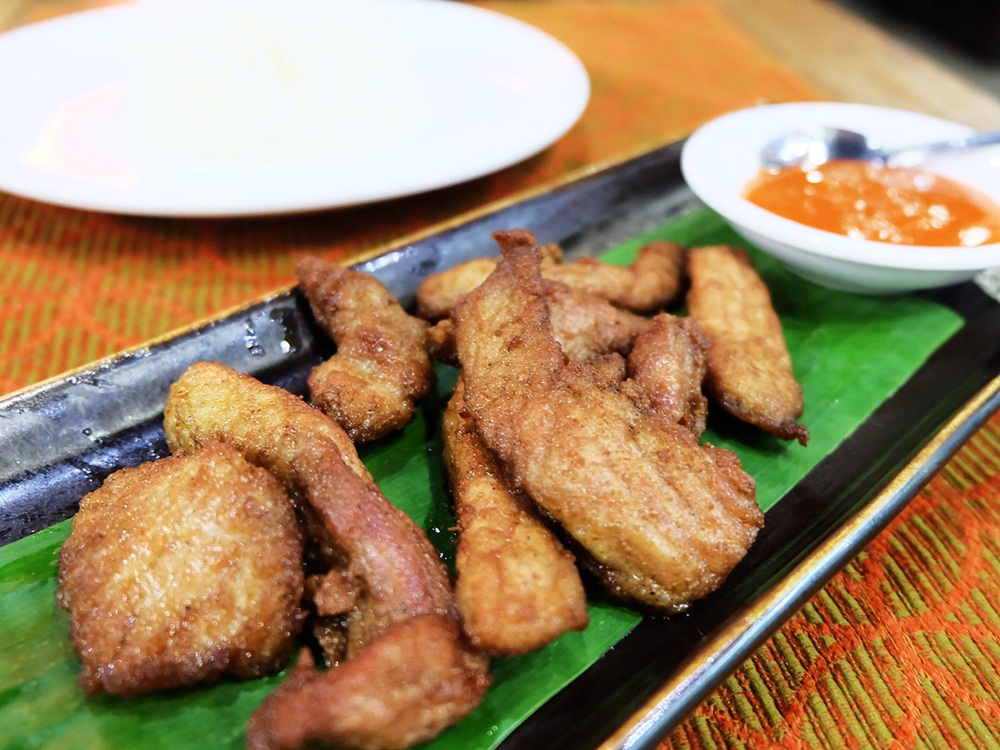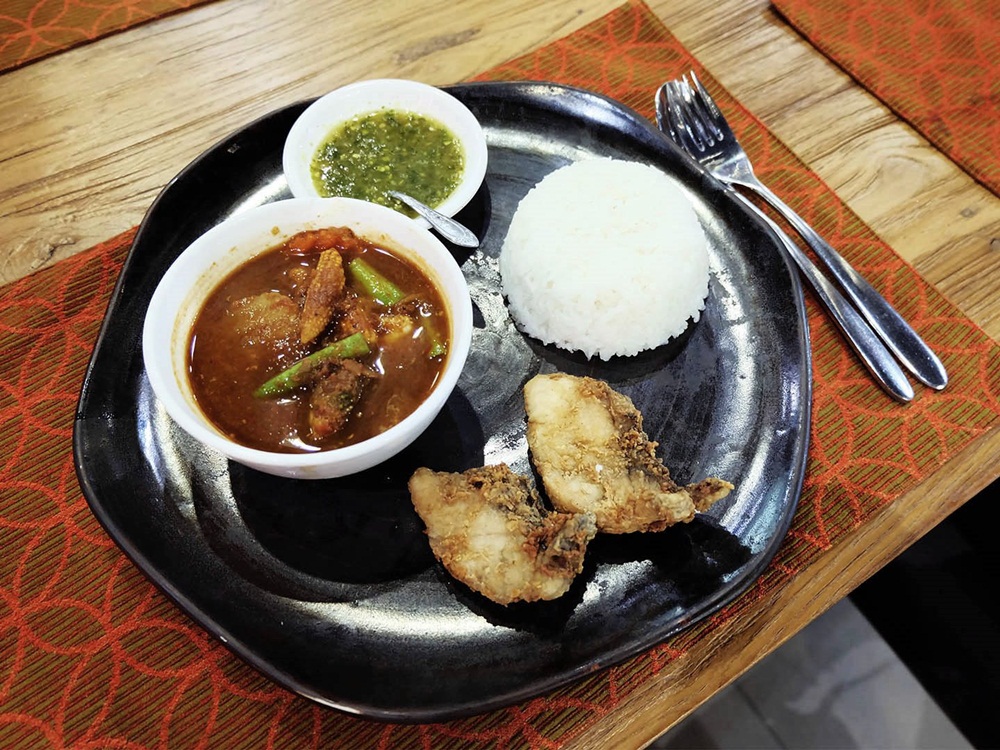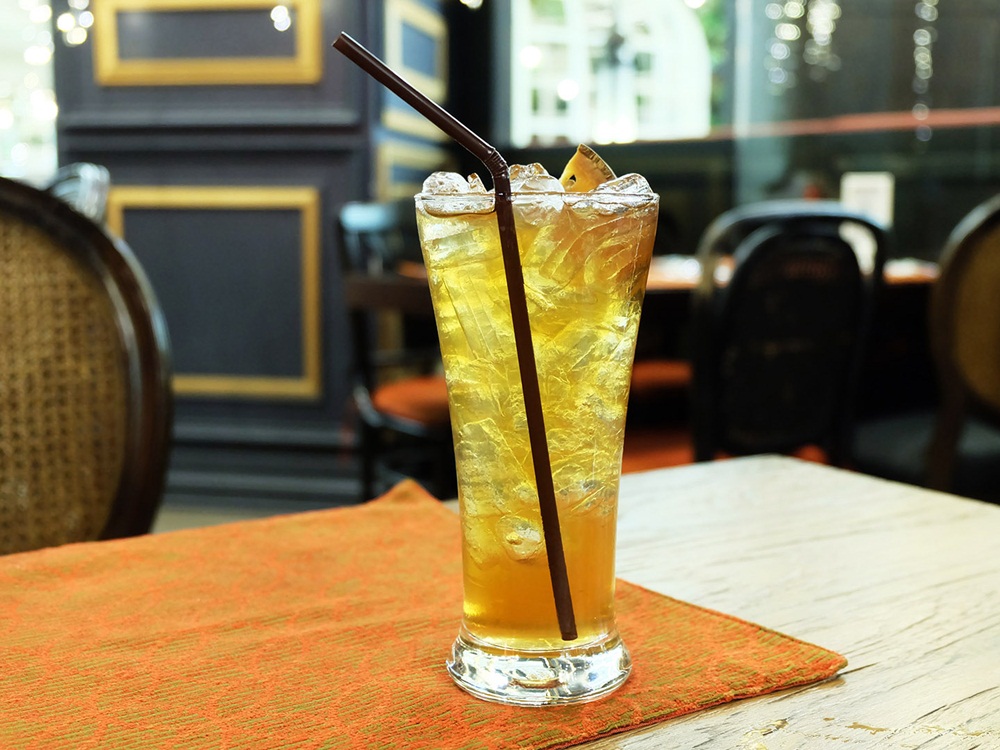 Located in prime area of Bangkok, but taste of food and ambiance at Fai Sor Kam is authentic Lanna-style. Why wait? Come taste Northern-style food at Fai Sor Kam, Fl. 4, Food Passage Zone, Siam Paragon.