THE HISTORY OF PEANUTS
A Look at the Longest Story Told By One Human Being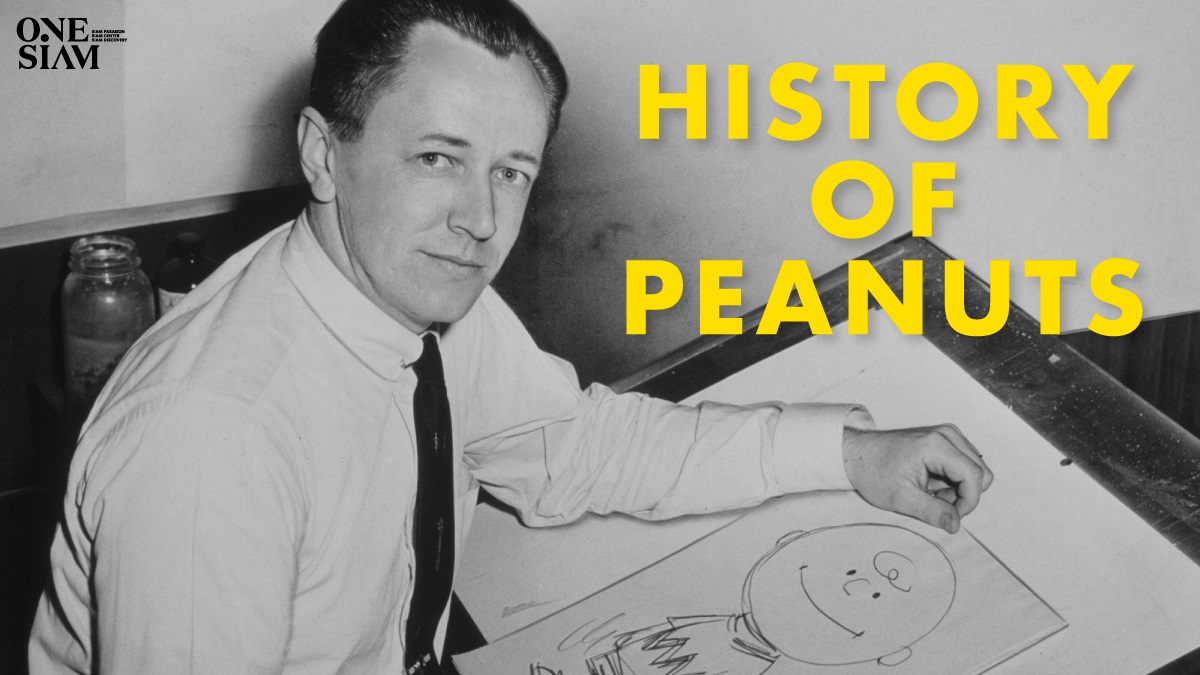 What is Peanuts? Upon first hearing that word, one may think of the food that some people have an allergy to. But that's not the Peanuts we're talking about. No, we're going to talk about the "longest story ever told by one human being". How long are we talking? The Peanuts comic strip helped lighten up newspapers from October 2, 1950 until February 13, 2000. The single human being behind it all, story and illustrations, was the great Charles M. Schulz.

Charles M. Schulz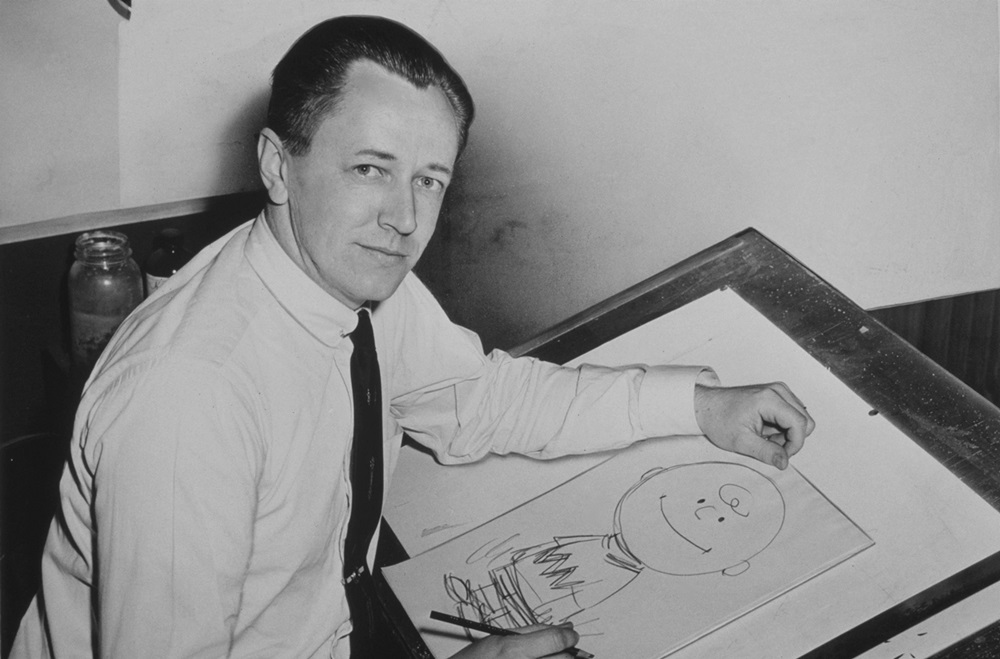 Photo courtesy of Wikipedia
Charles Monroe "Sparky" Schulz was born in Minneapolis, Minnesota on November 26, 1922. He was of German and Norwegian heritage. He'd always loved drawing from an early age. As a young boy, he often drew his family dog, Spike, who often ate unusual objects such as pins and tacks. Schultz later served in the United States Army during World War II.
Schulz's first comic strip was a weekly panel titled Li'l Folks, published from June 1947 until January 1950 on the St. Paul Pioneer Press, his local hometown newspaper. Additionally, the comic strip was also featured on The Saturday Evening Post. Little do most people know, it was in Li'l Folks where Schulz used the name Charlie Brown for one of his characters. The comic strip also included a dog that resembled Snoopy.
Charles M. Schulz would finally bring Peanuts to life on October 2, 1950, when it premiered on 9 newspapers that day. The comic began as a daily strip, appearing from Mondays through Saturdays, and spanning four panels. The first Peanuts strip introduced the characters Charlie Brown, Shermy, and Patty. As we all know, Charlie Brown would go on to become one of the key leading characters in the Peanuts comic strip. Most impressive is the fact that Charles M. Schulz opted to produce all aspects of Peanuts on his own including the script, the art, and the lettering.
Over the course of his life, he grew to become one of the most influential cartoonists of all time. This was evidenced by the numerous awards he received for his work. These awards included:
• National Cartoonist Society's Humor Comic Strip Award (1962)
• National Cartoonist Society's Elzie Segar Award (1980)
• National Cartoonist Society's Reuben Award (1955, 1964)
• National Cartoonist Society's Milton Caniff Lifetime Achievement Award (1999)
• Hollywood Walk of Fame Star (June 28, 1996)
Schulz passed away from colon cancer at his home on February 22, 2000 at the age of 77.

Peanuts
Peanuts is perhaps best known for giving us beloved characters like Charlie Brown and the dog Snoopy. But there is a history behind the comic itself. During its peak, which was the mid- to late-1960s, Peanuts was featured in over 2,600 newspapers and had about 355 million readers in 75 countries, as well as being translated into 21 languages. Yes, that was how popular Peanuts was and still is.
The comic strip that we know as Peanuts made its debut on October 2, 1950. The first strip featured only three characters at the time: Charlie Brown, Patty, and Shermy. Of course, the character we know best is Charlie Brown. Eventually, other famous Peanuts characters would make their debut later on. Here is a timeline of some of these characters' first appearances:
• October 2, 1950 – Charlie Brown
• October 4, 1950 – Snoopy
• March 3, 1952 – Lucy van Pelt (Linus van Pelt's older sister)
• September 19, 1952 – Linus van Pelt (Charlie Brown's best friend)
• August 23, 1959 – Sally Brown (Charlie Brown's younger sister)
• April 4, 1967 – Woodstock
Aside from its comics, Peanuts also achieved a considerable level of success with its television specials. In total, there have been 45 television specials made for Peanuts. Some of the best known specials include A Charlie Brown Christmas, It's the Great Pumpkin, Charlie Brown, and A Charlie Brown Thanksgiving. There is no doubt that a lot of people probably grew up watching these TV specials as children during the festive and holiday seasons. The Peanuts television specials were later ranked fourth as the Greatest TV Cartoon of All Time by TV Guide in 2013. Additionally, the full-length, computer-animated feature film The Peanuts Movie was released on November 6, 2015.
Here is a timeline of the release dates of the Peanuts TV specials:
• December 9, 1965 – A Charlie Brown Christmas
• October 27, 1966 – It's the Great Pumpkin, Charlie Brown
• November 20, 1973 – A Charlie Brown Thanksgiving
There's no denying that Peanuts has become one of the most popular and influential comic strips of all time. Whether it's the newspaper comic strips or television shows, Peanuts surely has somehow shaped our childhoods and has left us with endearing characters like Charlie Brown and Snoopy.